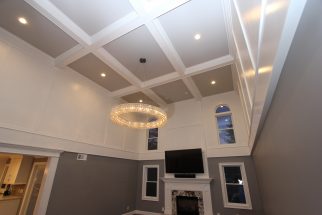 What is a Coffered Ceiling?
A Coffered Ceiling is an additional panel in a ceiling that includes a pattern of indentations or recesses on an overhead surface.
Coffered Ceiling is usually installed in rooms with very high ceilings. They reduce the heated surface. Besides, they cover all installations that are located just below the ceiling and allow you to freely distribute elements of lighting, air conditioning, or heating on its entire surface. An essential advantage of Coffered Ceiling is its appearance, which is often an interesting alternative to the standard ceiling.
You can transform any room (living room, dining room, foyer) with an aesthetic and attractive addition of a coffered ceiling, which adds depth and refined feel, while not having to sacrifice any living space.
Coffered Ceiling is primarily used in flats and single-family houses. Free measurements, several project ideas and offer prepared with consideration specified price range, allow you to adapt your expectations to the best fit solution.
Look through our vast gallery of Coffered Ceilings to inspire change in your home.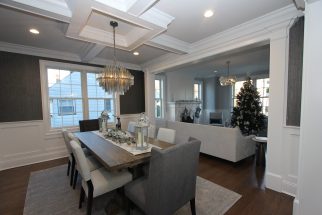 When to use Coffered Ceiling?
Square, rectangular or circle-shaped coffers are assembled using profiles permanently or with the option of any change in their layout. The choice of colors, textures, and shapes makes the panels create many arrangement options. It is also possible to form slants or arches on ceilings. Thanks to such possibilities, we gain the chance to enlarge, increase, or decrease our rooms optically. Adding lighting suitable for their character gives us almost unlimited arrangement possibilities.
If desired, we can also choose a Coffered Ceiling, which perfectly absorbs sound. Thanks to this, they prove themselves in public facilities, offices, or soundproofing of the room in the flat where the TV is located.
That technology does not require surface preparation to insert a Coffered Ceiling. The essence of the structure is the frame. After suspending the structure made of aluminum profiles and leveling it, it remains only to arrange the appropriate panels in their places.
Why Tream Team?
We are a devoted and meticulous design-build company with 15 years of experience serving clients, just like you, all around New Jersey.
Differing from many other companies in our industry, we approach every project with a completaly unique and original process. Since we have our own designers and architects we are never pressed to match previous projects with your needs. Instead, we design our projects from scratch to perfectly fit your home and your vision every time.
Check how we can help you and see our testimonials or previous projects.

As a full service company after creating a project to perfectly match your requests and having craftsmen implement our ideas, we also have skilled and precise painters to paint and prepare our work for preservation and continued beaty for years to come.
While we are not the cheapest company to choose from in our field, we believe that it is well worth it using proper materials and giving every project the time and precision it requires. This is why we stand by our product and guarantee great quality and longevity for years to come. Our experience also allows us to resourcefully and effectively get get the most out of every budget.